If you've decided to move to Salesforce but aren't sure where to start, this article will answer your questions and guide you through the process of implementing Salesforce.
It's important to remember that while Salesforce has a great deal of flexibility, there are still some areas that you need to be aware of before committing to a new system.
This article will cover the steps that each of these areas take and some of the common challenges you'll face when using it.
Benefits of Salesforce Implementation Services
Implementation services for Salesforce can take on many different roles. From ensuring that the system is configured to meet the unique needs of your business to managing licensing fees and changing user interfaces, our Salesforce consultants can help you get the most out of Salesforce.
There are many benefits to hiring these professionals for your project, and here are some of the most common ones:
A consultant with years of experience typically performs these implementation services. They specialize in the Salesforce ecosystem and have deep knowledge of the product.
They'll also help you map business processes to the system and offer on-site training and support for the entire process. They'll even help you with an assessment of your org.
Unlike in-house Salesforce professionals, Salesforce implementation services consultants are experienced and passionate about the platform. And because of that, they are the best choice for your company.
Project estimation for Salesforce implementation depends on several factors, including the size of your company, the amount of data to be imported, and the amount of customization required.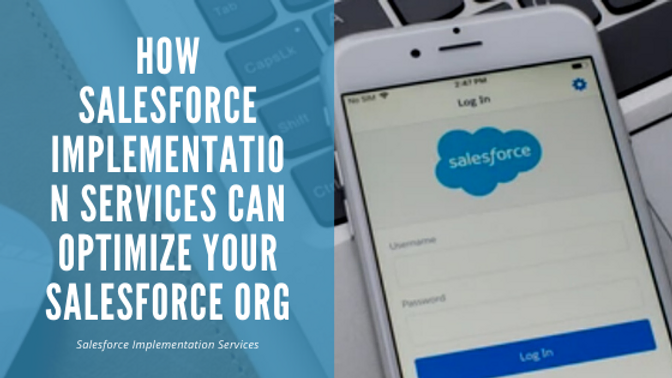 It's also crucial to identify measurable goals and timelines before you begin implementing Salesforce. Once you've decided what you need from Salesforce, you'll need to contact a Salesforce implementation consulting firm.
A qualified consultant will provide an estimate based on your specific needs and requirements. It's also crucial to work with a company with extensive experience in this field. Most estimates are based on time and material.
Another essential aspect of Salesforce implementation consultant is the customization of AppExchange apps. Salesforce experts can custom-build apps for your company to meet your needs. It helps improve communication and information flow.
A professional Salesforce developer can help your business create a point solution or launch a professional automation app. The implementation process is fast and painless when choosing a team that understands your business.
Further, these experts have years of experience in CRM implementation and can ensure that your project goes smoothly from start to finish.
What does a typical Salesforce implementation service cost?
Salesforce is an excellent tool for your sales team, but the price tag isn't for every company. The costs of setting up the system depend on the size of your team and the number of users you need. However, if you're looking for the best CRM system for your business, Salesforce is likely the best option.
Which is bigger, Salesforce or HubSpot?
When you compare the features of these two software packages, you might wonder: which one is bigger? HubSpot has a massive library of powerful integrations, while Salesforce doesn't. Although these two programs have their advantages, they have significant differences, including their scalability and customization options. In addition, Salesforce offers a much easier customization interface. Unlike HubSpot, you don't need to be a programmer to make your customized solutions. Users with no coding experience can often design and implement business apps within a few hours!
What is the difference between HubSpot and Salesforce?
There are several key differences between these two CRM platforms. Both are ideal for small-to-medium-sized businesses, but they have distinct strengths and weaknesses. The most notable feature of HubSpot is its free CRM. It helps startups digitize their sales processes. The most significant difference between HubSpot and Salesforce is in their price. The former is less expensive and ideal for small businesses, while Salesforce is more expensive and is suited for larger companies.
What is the difference between HubSpot and Mailchimp?
If you plan to use email as a marketing tool, you might wonder what the difference between HubSpot and MailChimp is. They both have their pros and cons. Mailchimp has many features that you might find beneficial, while HubSpot's price is more affordable. The price difference between the two is due to the number of contacts you want to send to. Mailchimp is a more complete email marketing tool than HubSpot, but it has fewer automation features. However, MailChimp's price is also based on the features you choose.
Why use a Salesforce Consultant?
If you want to implement Salesforce in your organization efficiently, you can find several benefits from hiring a Salesforce implementation service. A Salesforce implementation service will assess your current systems and business practices and develop a customized strategy based on those needs. They will customize the Salesforce cloud system to meet your business needs and provide ready-to-use email templates and workflow. They will also ensure that your Salesforce solution is fully compliant with your organization's needs.